SPOILERS CAN BE FOUND BELOW: READER BE WARNED
Stranger Things, the 2016 hit show that had everyone on the edges of their seats, is due for a second season. Stranger Things is a Netflix Original TV show that aired in July of 2016. Since the shows release it has won the 2017 'Show of the Year' at the MTV Movie and TV Awards, along with the Outstanding Performance in an Ensemble in a Drama Series.  Stranger Things became the talk of the summer of 2016 being that the first season only has eight episodes.
The backstory of the show takes place in 1983 when the son of Joyce Byers, Will goes missing and she launches a terrifying investigation. The series unravels remarkable mysteries including supernatural forces, private government experiments and a strange little girl. Eleven, the little girl comes into play since she was raised and experimented on by the secret government. She has unique supernatural abilities. She ends up escaping from the lab where Mike, Lucas and Dustin discover her and believe with her powers she can help them find whoever took Will. Eleven knows where Will is, a world based off of our reality but darker and with no furniture. As time goes on more people they care about start to disappear and the tam works together with Elevens help to find where Will is, and how to save him.
(SPOILER ALERT)
After the big hit of the first season, Netflix officially announced that Stranger Things will be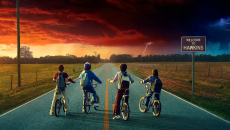 coming back with season 2 on October 27, 2017 for a Halloween comeback. At the end of the first season, the finale ended with a lot of loose ties. Eleven defeats the monster then randomly disappears. No one knows if she got destroyed with the monster, or if she went to another dimension when she destroyed it. The new trailer for season 2 which was released in late July 2017 shows that Will is still experiencing visions that show that evil is still occurring in the town. The only way they know is through Will and what he sees. Will goes down the spiral of horror as he feels and sees everything is this horrific world.. The trailer dramatically ends with Eleven waking up in a different world and shows her trying to get back in the real world. The team must work together to find out what threatens those who survived the Upside Down and what must they do to stop it.