Serving size: 4 dozen
For the Snicker Doodles:
Preheat the oven to 350 degrees.
In large mixing bowl, beat unsalted butter, white granulated sugar, and light brown sugar. Stir in pumpkin puree. Beat egg and vanilla extract.
In medium mixing bowl, whisk together flour, baking powder, salt, ground cinnamon, and ground nutmeg.
Slowly add dry ingredients to wet ingredients, and make sure no flour clumps are visible.
Cover dough and place in refrigerator for at least 1 hour.
Cover baking sheets with parchment paper or baking spay.
For the Sugar Mix:
In a small bowl, mix white granulated sugar, ground cinnamon, ground ginger, and allspice.
Scoop out balls of dough and roll into sugar mixture and set spread out onto greased baking sheets.
Bake 12-15 minutes, less time for smaller balls, and more for larger ones.
Pumpkin snicker doodles:
1 cup unsalted butter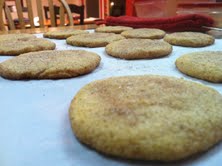 1 cup white granulated sugar
½ cup light brown sugar
¾ cup pumpkin puree
1 large egg
2 teaspoons vanilla extract
3 ¾ cups flour
1 ½ teaspoon baking powder
½ teaspoon salt
½ teaspoon ground cinnamon
¼ teaspoon ground nutmeg
Sugar mix:
½ cup white granulated sugar
1 teaspoon ground cinnamon
½ teaspoon ground ginger
1/8 teaspoon allspice